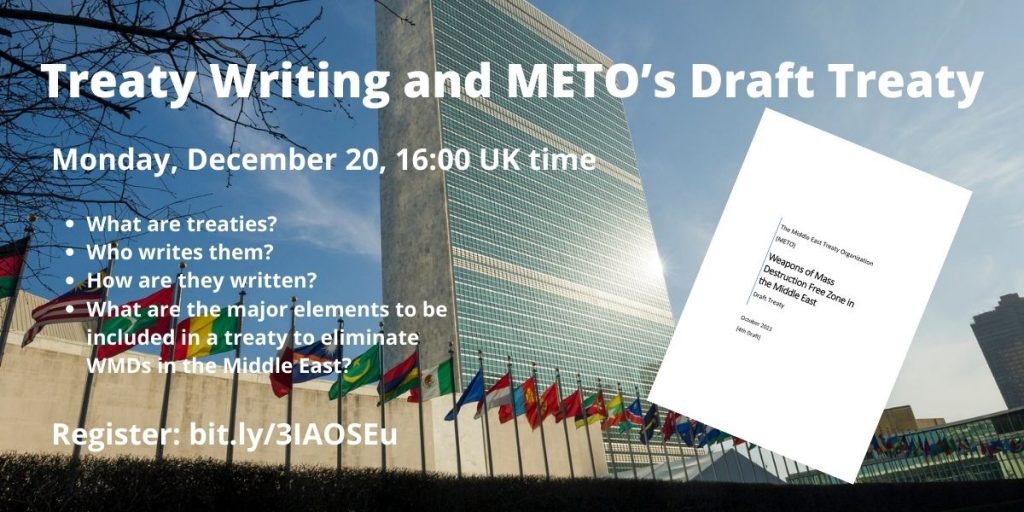 METO's core "product" is our Draft Treaty for a WMD free zone in the Middle East that has gone through 4 iterations so far. DT3 can be found here. DT4 has just been presented to diplomats in New York who are tasked with negotiating such a treaty.
We are delighted to offer to 25 members of the University Network a 2 hour session on Monday, December 20 with Dr. Leonardo Bandarra from the German Institute for Global and Area Studies (GIGA). This workshop, which will be partly taught and partly group work, will tackle such questions as:
What are treaties?
Who writes them?
How are they written?
What are the major elements to be included in a treaty to eliminate WMDs in the Middle East?
What will you get out of it?
As an ambassador for METO at your university, you may have to deal with tricky questions about the purpose of a WMDFZ treaty. You may hear the old narrative that "it's impossible".
From this course, not only will you gain a basic understanding of treaties, you will also gain insight into how METO has developed our evolving Draft Treaty through roundtable meetings and consultations with experts and advisors in the field. You will be able to help change the narrative to "it's possible."
Register below