October 15-17th marked the Second World Peace Congress by the International Peace Bureau, hosted in Barcelona, Spain. It saw a community of over 2,000 activists, campaigners and NGOs joining together (both in person and virtually), to engage in a series of discussions and events surrounding this year's theme: '(Re) imagine Our World'- Action for Peace and Justice. METO was honoured to attend and take part, and especially to connect with other organisations and activists present. The event also offered the first opportunity since the start of the COVID-19 pandemic, for some of our team to meet and work together in person, which was incredibly special.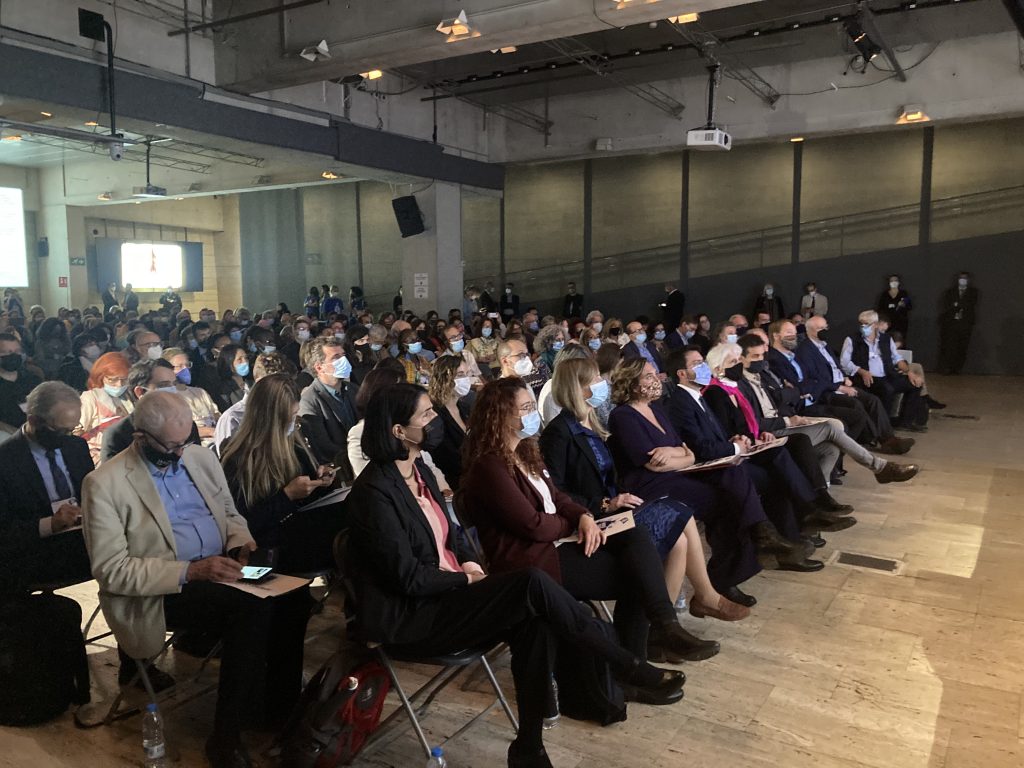 The conference began with an opening ceremony, and speeches by social justice activists from around the world- including from the Mayor of Barcelona, Ada Colau, former Labour leader Jeremy Corbyn MP, and executive director of ICAN, Beatrice Fihn. The conference sought to explore a breadth of important and timely social justice issues, such as the climate crisis, racism, and of course, peacebuilding and disarmament. It offered a space to platform the voices of change makers across the globe, increase awareness on these issues, and to reflect on the lessons to be learnt, and the future ahead, of activism and campaign work seeking to impact and create meaningful, positive change. This was particularly interesting as some major events- both political and social- have changed the trajectory of 'activism' in the modern day. For example, the shift in campaigns work with the global pandemic, as individual activists and organisations have reshaped and reframed the means through which they have platformed their work and connected with others in a mostly digital setting given the circumstances. As part of this, the weekend involved a number of sessions and workshops, hosted by different organisations, teaching and discussing their work and activism, including great sessions hosted by Black Lives Matter, the Women's International League for Peace and Freedom, the Campaign for Nuclear Disarmament among many, many others.
The end of our first day at the conference was concluded with an interview with ICAN Executive Director Beatrice Fihn, as part of METO's podcast series, 'In the Zone'. We sat down to talk about the successes of the Treaty on the Prohibition of Nuclear Weapons, what lies ahead for ICAN and its work with the Treaty, and how this could be applied to the work towards a Weapons of Mass Destruction Free Zone in the Middle East.
The interview also involved discussions on activism within peacebuilding and the importance of accountability and reform, as we spoke on ICAN's recent report into "racism, colonialism and nuclear weapons", and the need for active anti-racist efforts and decolonising measures within NGOs in the international security field, along with gender mainstreaming, LGBTQ+ representation and more, to ensure that our practices, and impacts on policymaking, are inherently intersectional and inclusive of all.
After a particularly busy and exciting jump straight into the conference, it was also time for a little exploration of the city of Barcelona, and more importantly, some celebrations for our director, Sharon's birthday, joined by friends from the IPPNW. A lovely dinner at Les Quinze Nits, where we delved into a delicious range of tapas and paella- it being some of our first times trying traditional Spanish cuisine- and some evening sightseeing of Barcelona's most famous spots, such as La Sagrada Familia, we headed back to rest and prepare for the next day of sessions ahead- including our own.
Day 2 of the conference began, and we hit the ground running. This second day of sessions included one by our director Tony Robinson, for Pressenza, on Nonviolent Journalism.
The session began with breaking into groups, and working to create definitions for the terms 'violence', and 'nonviolence', which revealed the importance of personal experience when bringing an understanding of these words- some groups focused on the notions of emotional, mental and psychological violence, and its implications for whether violence could be considered 'finite' or 'infinite', whilst others noted considerations of physical violence, in addition to recognising structural and systemic violence. Everyone agreed that these different forms of violence often work in tandem and can have cyclical, perpetual implications in some contexts. Contrasting from this, it was interesting to see the reflections of what nonviolence meant- especially whether nonviolence was something to be considered as passive, or as an active choice- is nonviolence merely an absence of violence? Or, for example, when applied to the practice of journalism, should it instead be an active effort to dismantle and challenge existing violent elements in practice?
It was uplifting to see that our definitions were rooted in a place of optimism- we all drew on love, understanding, active listening, and kindness as crucial elements of nonviolence in practice- and found common ground on identifying these as a hopeful path to dismantling violence in all its forms. This session on nonviolent journalism, and its recognition that there is "no such thing as objective journalism", offered up important reflections on METO's own work within the MENA region, as we noted the often Orientalist, negative and cynical portrayals of the Middle East within Western mainstream media. This is something which METO hopes to tackle through its own work, such as our 'good news' bulletin, 'On the Bright Side', which is soon to be launched. It will be spotlighting on positive, 'good' news from the region. Similarly, we will also be launching our 'Remapping the Middle East' project- which will be an opportunity to take an in depth look at what civil society is doing on the ground in the region with the aim to build alliances across different areas of activism so that the region as a whole can advance in human security, something that is often completely ignored when the lens through which security is looked at is state security to the cost of all else.
In the afternoon, METO hosted its own workshop session: 'Advancing towards a Middle East Free from Weapons of Mass Destruction'. Led by Sharon and Emad, our two directors. It was a pleasure to be joined by a great turnout, including Jeremy Corbyn, who sat in on our workshop.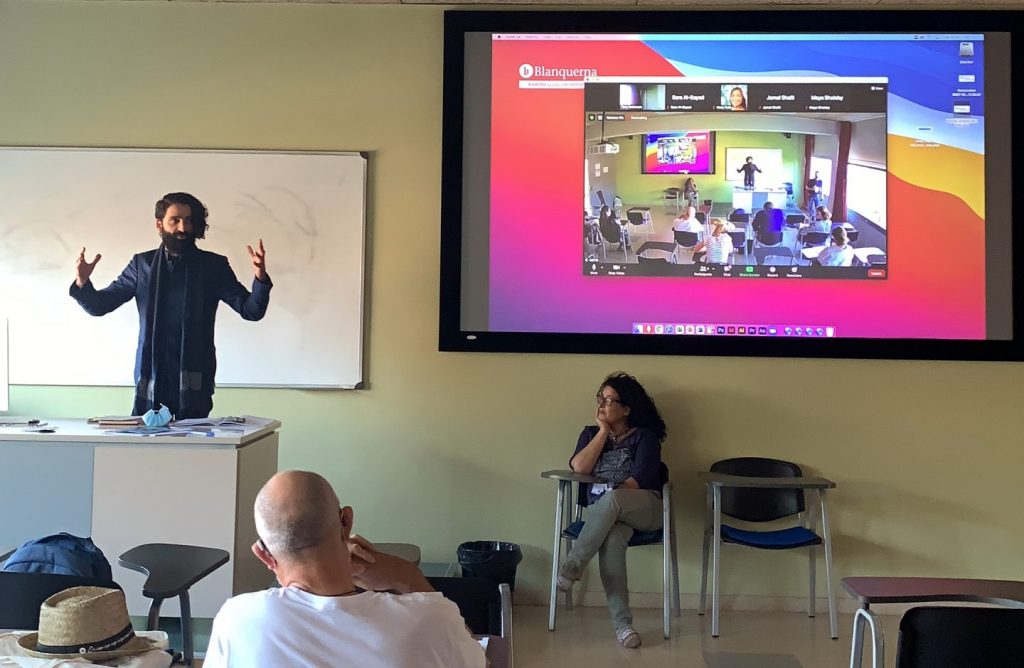 Sharon and Emad told the story of how and why METO came about, and its work so far. Highlighting the need for practical, tangible solutions to realistically achieve steps towards a WMDFZ in the Middle East, such as capacity building, incentivising states, and presenting METO's Draft Treaty text, the workshop engaged and discussed a number of contemporary socio-political and economic issues that impact states' willingness to get involved in disarmament commitments within the region. Co-operation amongst states on other key policy issues and interests can bring them to the table to also discuss opportunities for disarmament. The reflections on what possibilities lay ahead of METO as an organisation opened up a hopeful and optimistic conclusion amongst our speakers and participants, that a WMDFZ in the Middle East and North Africa is very much possible, and through meaningful collective action, we get closer with each stage of our work, and that of other individuals and organisations committed to the cause.
After our session, we had the pleasure of a meeting, and interview, with Jeremy Corbyn, to discuss areas of synergy and opportunities for disarmament movements within the Middle East, and to learn further on the work of Corbyn's new venture, the Peace and Justice Project. Our interview for 'In the Zone', centred on Jeremy's hopes for peacebuilding campaigns moving forwards, and global challenges to be overcome.
Day 3 saw some further exploring of the city, a closing session by the International Peace Bureau with more brilliant speakers offering closing remarks, an inspiring final declaration, and a well-deserved restful evening looking back on the conference and all that we had learnt. 
With this came an end to the conference, and our time in Barcelona. We are incredibly grateful for the opportunity to have participated in a conference full of such meaningful discussion and constructive reflection, and to have hosted a workshop as part of the conference's series of events. The space to connect with, and learn from, other individuals and organisations who are part of global collective action towards a more peaceful and sustainable world, was both memorable and invaluable, and METO looks forward to collaborating with some of those we had the chance to meet with whilst in Barcelona.
The upcoming episodes of our podcast, 'In the Zone', with Beatrice Fihn and Jeremy Corbyn will be released soon. You can listen on all our platforms on Youtube, Soundcloud and Spotify- stay tuned and keep an eye on our social media channels and website for their release. You can also stay up to date with more of METO's work from the conference and in general, such as updates about our upcoming launch of the good news bulletin, 'On the Bright Side', and our Remapping the Middle East project online- including on our Twitter, Instagram and Facebook pages (all @wmdfreeme).